Ron King – A Brief History
"Ron creates with easy grace images of great voice and character." Ann Volmering
Ron King is widely recognized as a superb professional photographer and has won numerous awards over the years. His work has appeared in People magazine, among other national and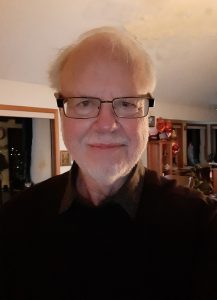 regional publications. Born in the small town of Manson on Lake Chelan in Eastern Washington, Ron is a graduate of Washington State University where he studied anthropology. He began his photographic career in Wenatchee in 1973 and in 1981 moved to the Mount Vernon, Washington area where he then owned and operated a photography studio for many years.
In 1995, Ron developed an interest in adapting the computer for use in photography, first restoring old photos, retouching and enhancing images, and began his pioneering experiments in the artistic side of the medium. He created popular, creative artistic additions to his portrait and wedding photography business, always striving to add extra impact to their images. …. 
And then he decided to have Lasik eye surgery to free him from wearing contact lenses, and instead found his vision altered in a way that ultimately ended the photography part of his career.
Feeling driven to continue in the arts, he ultimately found inspiration in the most unlikely place – from the failed eye surgery itself. For a few years, until he found contact lenses that gave back his ability to see clearly, Ron was fascinated by the sinuous streaks (Hancock Lines) he saw at night when looking at bright lights. His goal was to find a way to  to share that experience – an insight into a new and mysterious world.
After years of experimenting, in 2016 Ron finally developed the techniques that allowed him to share his new vision, and he began creating an entirely original body of work, creating images that go well beyond the photographic image. His style was born. Virtual Visions Art, a process involving a combination of photography and a unique mixed digital media process he calls "Stratomorphic Rendering", a painstaking multi-level technique coaxing out the heart of each piece.
And he is having more fun than ever……..