Ron King – A Brief History

"Ron creates with easy grace images of great voice and character." Ann Volmering
Ron King is widely recognized as a superb professional photographer and has won numerous awards over the years. His work has appeared in People magazine, among other national and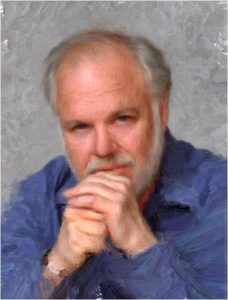 regional publications,.Born in the small town of Manson on Lake Chelan in Eastern Washington, Ron is a graduate of Washington State University where he studied anthropology. He began his photographic career in Wenatchee in 1973 and, in 1981, moved to the Mount Vernon, Washington area, where he then owned and operated a photography studio for many years.
During this period, he also began the serious study of jazz piano, something he had been interested in since his days at college
Ron served many years on the state Board of Directors of the Professional Photographers of Washington and has been honored as a Life Member. He is a member of numerous local organizations involved with business and the arts, as well as a founding member of the Wednesday Group, a philanthropic organization and sort of local "think tank."
In 1995, Ron developed an interest in adapting the computer for use in photography, first restoring old photos, retouching and enhancing images, and began his pioneering experiments in the artistic side of the medium.
During a brief period in the early 2000s he tried his hand at creating some serious art and showing it in galleries, but found himself largely unsatisfied with the bulk of his work and withdrew from the scene. Then, in 2016, Ron began creating an entirely new body of work, finally feeling, for better or worse, that he had found what he had been looking for in his artistic vision. "It only took 15 years," he laughs.. In his first show, put on by Skagit Artist's Together, one of the premier groups of artists in the area, his work won the "People's Choice" award in 2016.