Virtual Visions Art by Ron King – Artist Statement and Shows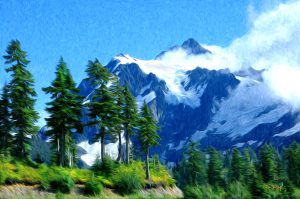 We see the world in layers of truthful representation, but what if our vision was opened to the shadows of the truth beyond the real?
My art is the unknown just beyond the familiar. I begin with a photograph and then go deep into the image itself to free the restless phantasmagorias within the still life. Through Stratomorphic Rendering, a mixed digital media technique that involves painstakingly working through multiple artistically enhanced layers of each image, I coax out the heart of each piece to deliver a visual experience that offers more than reality.  ♦ Check out my bio to learn the inspiration behind my style.
>> ♠  indicates current  & upcoming shows – scroll down to see
2020
Shambala Bakery
Downtown Mount Vernon
Jan. 1 – Feb 29, 2020

Tulip Festival Art Bash
Lux Art Center, La Conner, WA
March 21 – 19, 2020

>> ♠ Majestic Inn and Spa
Anacortes, Washington
June 1 -28, 2020

>> ♠ NW Art Beat Open Studio Tour
Skagit County –  (Juried)
July 20 – 21, 2020

>> ♠  Rexville Deli
Between Mount Vernon and LaConner, Washington
August 1 – 30, 2020

2019
United General Hospital
ends Feb. 28, 2019

Jansen Art Center – (Juried)
Winter Juried Exhibit, Lynden, Washington
Dec. 6 –  Mar. 1, 2019

Valley Shine Distillery
downtown Mount Vernon
January 18 – March 30, 2019

Hadrian Stone Design
Walk on the Wild Side Show
Edison, Washington
Feb. 2  – Feb. 26, 2019

Jansen Art Center – (Juried)
Spring Juried Exhibit, Lynden, Washington
March 7 –  May 31, 2019

Hadrian Stone Design
Abstract Art Group Exhibition
Edison, Washington
Mar. 2  – Mar. 31, 2019

 Majestic Inn and Spa
Anacortes, Washington
April 1 – April 31, 2019

Hadrian Stone Design
Art Medley
Edison, Washington
April 1  – April. 31, 2019

Tulip Festival Art Bash
Carnation Building
Downtown Mount Vernon
April 8 – April 21, 2019

Shambala Bakery
Downtown Mount Vernon
June 1 – July 31, 2019

NW Art Beat Open Studio Tour
Skagit County –  (Juried)
July 21 – 22, 2018

Community Hang-Up
Downtown Mount Vernon
August 1 – 18, 2019
Reception Aug, 1, 5 – 8 PM

> ♠  Jansen Art Center – (Juried)
Fall Juried Exhibit, Lynden, Washington
Sept. 5 –  Nov. 33, 2019

> ♠  Lincoln Theatre Art Bar, Mount Vernon
Nov, 1 – 30, 2019

 

2018




Jansen Art Center– (Juried)
Lynden, Washington
March 1 – June 1, 2018

Tulip Festival Art Bash
Farmhouse Restaurant
April 7 – April 22, 2018

Semiahmoo Resort Golf & Spa
Memorial Day Show
May 25-28, 2018

NW Art Beat Open Studio Tour
Skagit County –  (Juried)
July 21 – 22, 2018

Hadrian Stone Design
Edison, Washington
July 14 – August 5, 2018

5th Annual Community Hang Up
Downtown Mount Vernon
August 4-22, 2019

Gallery Pegasus – Bellingham
July 6 – Sept. 30, 2018

Valley Shine Distillery
August 4-26, 2018

Bellingham Unitarian Fellowship/Venue Gallery
Sept 1 – October 31, 2018

Jansen Art Center  – (Juried)
Fall Juried Exhibit, Lynden, Washington
Sept 6 –  Nov. 30, 2018
Ballenger Studio
Nov. 24 – Dec. 23, 2018

Hadrian Art Gallery – December Art Fest
Dec. 1, 2018 – January 6, 2019

Jansen Art Center  – (Juried)
Winter Juried Exhibit, Lynden


 

2017


Ristretto Coffee Lounge – Sept. 1 – Dec. 31, 2017

Art's Alive – (Juried) – Nov. 3-5, 2017

Organización Mundial de Artistas Integrados
Lima, Peru   November 2017  (Juried)

Downtown Mount Vernon Community Hang-up
August 2017

NW Art Beat Studio Tours (Juried) –  July 2017

Art Bash – April 2017

2016
Art's Alive November (Juried) – 2016

SAT Studio Tour (Juried) – July 2016

Art Bash – April 2016